Not the everyday centerpiece
Being that many of my clients like their events to be outside the box they regularly ask me for suggestions on something to replace the traditional flower centerpiece. A few years back, when I was brainstorming ideas for one of them I looked around the house to see what I could put together and here are a few things: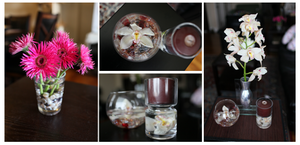 Pebbles & Water -  So simple and with endless possibilities. Add some pebbles to your vase to stabilize your flowers or add different colored pebbles into a hurricane candle holder. Let an orchid float on or in water. Use a fun vase with a single stem orchid.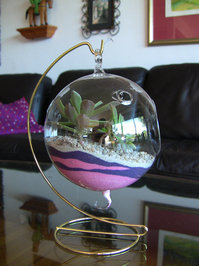 Succulent Terrariums - Since I don't have a green thumb, succulents are my plants of choice. Make a terrarium and it's like a little mini-landscape inside an awesomly cool container of choice. An added bonus is that you can create these centerpieces well ahead of your event, not having to worry about them wilting. If you don't want to search for all the pieces yourself search on Etsy for DIY kits. I found this really awesome one from SucculentlyUrban that includes the container, plants, sand, gravel and instructions for only $25.00. I want one!
Bonsai Tree - Having the pleasure of working with amazingly creative clients they often come up with fun ideas of their own! Here's one from last year from a couple who are very green conscious and loves everything trees. They hosted their wedding weekend surrounded by redwood trees, their ceremony was held in the redwood amphitheatre and included a tree planting, their favor was a tree seedling and as a centerpiece they had a bonsai tree. I was given one to care for, and I would use a picture of it for this post, if it wasn't for the previously mentioned lack of green thumb resulting in a sad looking bonsai tree on my desk.
« Fun Ideas without breaking the bank | Blog Home | Should I hire an event planner? »