Ask the Planner - Our new exciting service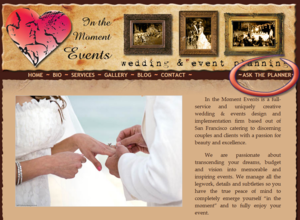 Today, with so much information right at everyone's fingertips thanks to the internet, many people choose to not hire an event planner or only hire a planner for the day of their event.
In the Moment Events
will always recommend hiring a planner and find it money well spent. However, we realize that not everyone has room in their budget to hire a coordinator, or for other reasons choose not to. We decided to create a middle ground and are very proud to announce
Ask the Planner
as our most recent addition to our services!
Ask the Planner
provides a place where anyone planning an event can ask their event specific questions and within one day have answers from our team of professional planners. Since most people have never planned larger scale events it can be a daunting task. Finding answers to questions, the right vendors, and solutions to DIY projects can also be very time consuming. That's were
Ask the Planner
comes in handy.
During the beta testing we offer the service for free. The answers to your questions will help build our knowledgebase where in the future couples will hopefully be able to find answers to most of their questions on their own.
« Unique Flower Ideas | Blog Home | 2013: The Year of Growth »