The Barn **NEW ** at Sequoia Retreat Center, CA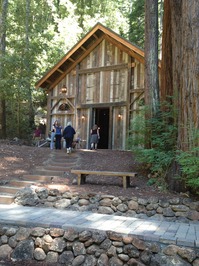 If you follow my blog you might recall that even though I'm based out of San Francisco I have had the pleasure of working at Sequoia Retreat Center in Ben Lomond, CA twice already. I'm super excited that I again get to work in this amazing space, nestled in the hills of the Santa Cruz mountains and be surrounded by majestic redwood trees for a full weekend.
Last week I had a meeting at the site with the amazing bride Missi, her mom and Laura of Five Star Catering for our final walk-through. Arriving at SRC is like coming home! To make things better, owner Diane had a very special surprise waiting for us. The Barn! This amazing building was brought in from Wisconsin and put back together again.
Mike who's in charge of fitting the pieces together was putting the finishing touches on the barn that is scheduled to be ready for Missi & Aaron to host their Wisco-Frisco BBQ Dinner the day after their wedding, August 5th, 2012.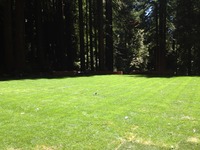 In front of The Barn there is a huge lawn that by my estimates can hold about 200 people for a seated dinner. It's also a nice place for guests to enjoy some sun or a fun time with lawn games.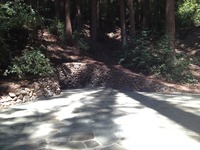 To the left of the barn is a paved area with nice stone accents where Missi & Aaron has decided to host their actual BBQ, with tables, delicous food coming out of the Sequia Retreat Center Kitchen and enjoy some refreshing drinks 
When night rolls around and it's time to work off some of the food, the guests can go inside the barn for some dancing, lounge and enjoy the amazing detailed work.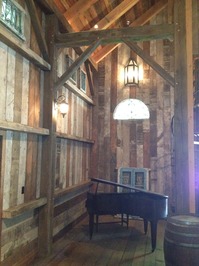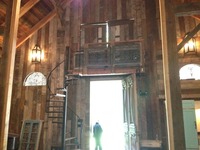 There is even a staircase up to the second floor where the barn doors open up and you can look out over the vast hills of the Santa Cruz Mountains.
« Sally & Frank - 11/27/2009 | Blog Home | Venuetastic - Amazing venue search tool »